A BRIEF HISTORY OF MOOK ....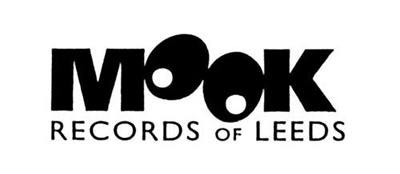 Begun in 1995 out of a desire to make records with a live vibe and a minimum of overdubs. The HOUSE OF MOOK page has full details of the Leeds based recording and rehearsal studio.
e-mail QUESTIONS TO MOOK
Our releases so far have been:-
MKCD18: "SLEEPERS WAKE" album by PERCY (November 2018).
"It might have taken Percy two decades to craft their debut album, but after all that time they have created an eclectic gem that's full of vim and vigor and well worth further investigation." Louder Than War. "It encapsulates the spirit of punk and the band's blistering live energy" - Aural Aggrivation, Nov 2018.
Worldwide download on Bandcamp, itunes or Spotify. CD album £10.00 inc P&P..
MKCD17: "RABBITING WITH RICHARD DIDO" album by RUDOLF ROCKER (June 2005).
The second album from our favourite UK samba-pop eccentrics. Who are the Chinsmen?
£10.00 inc P&P.
MK16: "QUIET PLACES" single by SAMSA (July 2004).
Wrapped around a downward spiralling guitar line and a muse-esque bassline "Quiet Places" received a 4.5 (out of 5) star review on Leedsmusicscene for being "sharp, focused and tough minded" with comparisons to British Sea Power and Franz Ferdinand.
7" vinyl £4.00 inc P+P

MKCD15: "SCUM" album by POP THREAT (March 2003).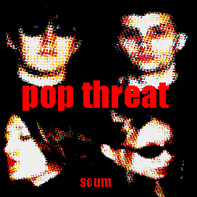 A mega fuzz feast with solid gems of tunes buried within. Fanzine approval was spearheaded by Unpeeled
and No kind of Superstar who were particularly taken with Caroline McChrystal's "angelic, breathily sexy"
vocals. Meanwhile indie shows out of much of Europe knew a good thing when they heard it, and blasted
many of the album's 12 songs to their discerning listeners.
£10.00 inc P&P.
MKCDS14: "WRINKLE" EP by WRiNKLE (February 2002).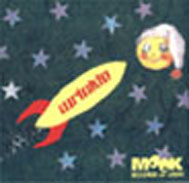 Does Dinosaur Jr-flavoured guitar music from a Wakefield 3-piece sound good to you? It certainly should. Having supported, and become showbiz chums, with the likes of Preston School of Industry, Drugstore and Biffy Clyro, the band quietly called it a day by metamorphosing into The Cribs via a change of drummer and are now reaping the success they always deserved.
4-track CD-EP £10.00 inc P+P.
MKCDS13: "CARAVAN" by PERCY (October 2001) 3-track CD single.


The title track is a desperate flight from debt-ridden modern life; "Being Human" sees proto-Percy crawling from primaeval slime (and coming up smelling of roses!); whereas "King of California" celebrates the seaside world of Beach Boy Brian Wilson.
£4.0.0 inc P&P.
MKCDS12: "THE CELLAR TAPES" by RUDOLF ROCKER (April 2000).

Even the most thorough of the BBC's League of Gentlemen fans are only just discovering this cult band - but anyone who attended the League of Gentlemen's live shows will have been played out of the theatre by the original "Voodoo Lady" from this very EP . The EP also includes "Plan Boom" - previously only available with German fanzine, "What's That Noise" .
4-track CD-EP £5.00 inc P&P.
MKCDS11: "POP THREAT" by POP THREAT (Mar 2000).

Velvets & Sonic Youth influenced swirling noize beloved of Sean Hughes and fanzines up and down the UK.
On the strength of this release they were invited to Maida Vale to record a BBC session, which unfortunately still remains untransmitted.
Are this band too scary for the Beeb?
4-track CD-EP £5.00 inc P&P.
MK10: "DONNY REDNECKS/S.B.O.T.Y" by PERCY (Jan 2000).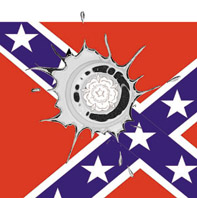 It's gala night at the WMC, but it's more like "From Dusk Til Dawn" as the band explode before your very ears in a sea of wreckage you will never again see." A toe tapping jaw dropper: Life in a northern town on viciously beaten acoustic guitars. Think Half Man Half Biscuit meets the Housemartins..." STEVE LAMACQ, Radio 1 Evening Session. His choice for 'Single of the Week' in Melody Maker on 15th Dec 99.
7" vinyl £4.00 inc P&P.
MKCD09: "THE EXOTIC SOUNDS OF RUDOLF ROCKER" by RUDOLF ROCKER (March '98)

Another popular release with John Peel, who played several of the album's 11 tracks. The Big Issue In The North observed that the record takes in roughly equal amounts of punk rock, bossanova and 70s-style Moog weirdness, whilst Vox likened the opener to Mark E Smith and The Fall learning to bodypop, concluding that though "they might not be exotic,they are off their rocker."
£10.00 inc P&P.
MK08: "ROUSSEAU" by RUDOLF ROCKER (November '97)


On purple vinyl, this 7" single features Rico Bell of the Mekons on accordion, and was likened to Noel Coward sniffing glue by the Melody Maker, and Vic Reeves' club singer by Record Collector!
£2.50 inc P&P.
MK07: "SHE'S GOOD" by MAMA SCUBA (June '97)


A 7" single described as having "serious-minded indie dynamics" in Record Collector, which picked up "Single ov da Month" in the Italian magazine, Vida. "Panama Jones" on the "B" is about a legendary Liverpool gangster.
£2.50 inc P&P.
MKCD06/MKLP06: "WELCOME TO SANTA'S SEX SHOP" by FUZZBIRD (April '97)

Became firm John Peel favourites during Sound City '96, and the album was subsequently featured heavily on his show, turning Mary Anne Hobbs into a convert along the way. Vox had them pegged as snarling young men who liked to frighten old ladies, and Mojo were impressed by their "urgently whimpered vocals and scratchy guitars."
LP £6.50, CD £10.00 inc P&P.
MK04 "A SELECTION OF CHEESES" by RUDOLF ROCKER (April '96)

10" EP, played by John Peel, featuring the sublime "Pants Yeah" and "Hey Hey Sergio", which an
Australian fan swears were the first words spoken by his 2-year-old son. Performances at Sound City '96 drew praise from both the NME and particularly the Melody Maker (RIP), who immediately ran a "Maker Breaker" piece on the band.
£4.50 inc P&P.
MK03 & MK05: "DESTINY PHONES" & "ANGELS" by CHEST

(November '95 & April '96)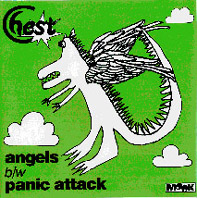 Airplay for "Jean Brodie" from the "Destiny Phones" EP on Mark Radcliffe's old late night show, and a runner-up single of the week review in the NME helped secure a live slot on the Evening Session's coverage of Sound City '96 (brokered in part by David Gedge of The Wedding Present). An NME "On" piece coincided, "Angels" was played on the Evening Session and Alan Parker: Urban Warrior's Radio 1 show, was an NME turntable turn-on, and even sneaked into the Melody Maker Top 30 for a week. "Destiny Phones" 10" EP £4.50, "Angels" 7" £2.50 inc P&P.


MK02: "BIN BAG" by GRANDADS DON'T INDICATE (October '95)

7" single on industrial strength vinyl, well received in their several home towns of Leeds, London, Scarborough and Sheffield, but somewhat hampered by their unusual promotional gimmick of parting company with their drummer as soon as the record was released.
£2.50 inc P&P.

MK01: "SLAMINA" by COPING SAW (July '95)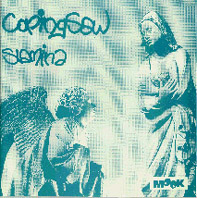 7" single pressed in the Czech Republic, played by John Peel, and described in the Melody Maker as combining elements of Blue Orchids, Rolling Stones, Kool & The Gang and "The Avengers", amongst others, whilst the USA's Alternative Press enthused about their "blistering punk yammering".
£2.50 inc P&P.
(All prices quoted above are for posting to the UK. For other destinations please get in touch for details of postal costs.)
ALL TITLES AVAILABLE FROM
HOUSE OF MOOK STUDIOS, AUTHORPE ROAD, LEEDS, UNITED KINGDOM, LS6 4JB.
tel: uk 0113 2304008 e-mail QUESTIONS TO MOOK
PLEASE MAKE CHEQUES OR INTERNATIONAL MONEY ORDERS PAYABLE TO "HOUSE OF MOOK"
NOW TAKE ME BACK TO THE MOOKHOUSE HOME