WELCOME TO THE HOUSE OF MOOK

House of Mook Studios, Authorpe Road, Leeds LS6 4JB Tel. 0113 230 4008

HOUSE OF MOOK has been providing fantastic value rehearsal space (and some excellent recordings) since first opening its shiny steel doors in 2000. We have 3 rehearsal rooms, all spaced well apart, enabling you to concentrate on your own music without having to battle it out with the band next door! Click to peek inside. Even our smallest room can comfortably accomodate most 4-piece bands (and if there's more of you, or you've got loads of gear, then why not try one of the bigger rooms?)

Basic room hire is from £7 to £9 per hour, but we offer discounted rates (three hours for the price of two) for daytime rehearsal sessions every day before 6pm and for block bookings (10 hours + in a week). Prices includes a vocal PA and 2 mics as standard, with backline, drums, additional mics and generous lock up gear units available as extras. We also offer a 10% student discount on all full-price sessions.

Our road is opposite Meanwood Waitrose, and the East of Arcadia Bar - (click here for maps), which is a short drive from the centre of Headingley, and about 10 minutes from the city centre. Or if you're coming by bus, we're on the 51 and 55 routes (the 38, 7 and 91 also pass close by).

To book, give us a buzz on 0113 230 4008. or email chief mookman Phil direct here. And we now offer online booking via Meet & Jam!
VISIT OUR NEWS PAGE TO CHECK OUT OUR CURRENT SESSION AVAILABILITY AND OUR REHEARSAL OR RECORDING PAGES FOR A RUNDOWN OF ALL OUR SERVICES (current prices in effect from 14th April 2009)

More about our location...

We're in the heart of Meanwood, a few minutes drive from Headingley, 10 mins from the city centre, and only 5 minutes from the Ring Road for those of you coming from further afield. The local amenities include the aforementioned East of Arcadia, 3 supermarkets (the brand new Waitrose, plus Aldi and Asda). There are also several cafes, a cashpoint next to Waitrose, a chippy, a couple of Chinese take-aways, a couple of pizza/curry take-aways, a KFC, a taxi rank opposite the Waitrose site, and an offy in the vicinity (don't worry, we recycle your empties!! - see below).

The studios are home to independent label, MOOK RECORDS. Mook's releases include "Quiet Places" by Samsa, the "La Luminol" EP by Wrinkle (the band the Jarman Twins were in before forming The Cribs), "Donny Rednecks" and "Caravan" by Percy (who included original Housemartin Hugh Whitaker on drums), and 2 albums. 2 EPs and a 7" single by Rudolf Rocker (with writer and League of Gentlemen member Jeremy Dyson on keyboards). Rudolf Rocker contributed the song "Voodoo Lady" to the second League of Gentlemen series and the original version of the song appears on their "Cellar Tapes" CD. Mook has also released an album and EP by Pop Threat, whose debut was a big big favourite of former Never Mind The Buzzcocks man Sean Hughes, and Percy's "Donny Rednecks" was Single Of The Week with Steve Lamacq, whilst their "Caravan", Samsa's "Quiet Places", much of Rudolf Rocker's music, and the Wrinkle EP all picked up Radio 1 play courtesy of the mighty, and now very sorely missed, John Peel.

In need of refreshment?...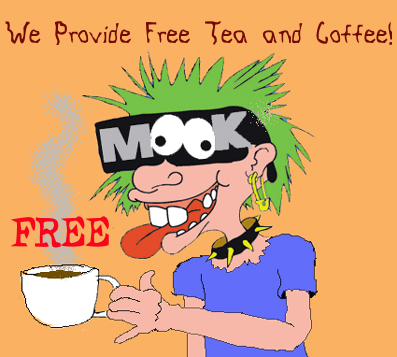 Our Tea, Coffee and Sugar is now all Fair Trade.
We also sell bottles of water, assorted cans of pop, packets of crisps and chocolate bars.
THE MOOKHOUSE IS A GREEN HOUSE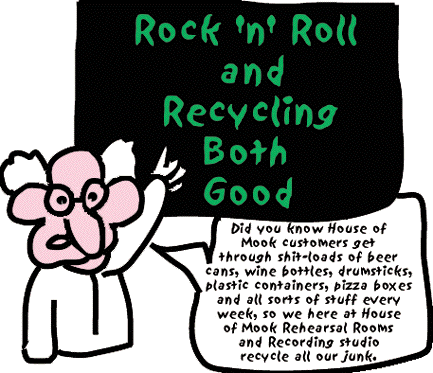 SEE THE MOOK CATALOGUE
---